Introduction
We all witnessed the success of Greta Gerwig's Barbie movie, which received mostly positive reviews. However, the credit for its blockbuster success is not only because of the film itself. A significant factor contributing to its success was the curiosity ignited around it by its unconventional marketing. Let me put it this way, Barbie's marketing strategy is something that should be taught to new marketers. That's why I am going to break down how Barbie's marketing made it a relevant and major movie event of 2023.
Strategic Brand Partnerships
With over 100 brand collaborations, the movie got immense attention. These partnerships were from different industries all over the globe, including Crocs, Progressive Insurance, X-Box, Pinkberry, Ruggable, and major clothing brands.
Some examples are:
Collaborated with Impala for Barbie-themed skaters.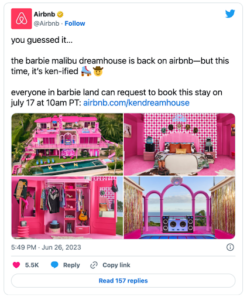 The real Malibu Barbie Dreamhouse in collaboration with Airbnb 
Mattel's new collectible Barbie movie dolls.
Collaborations with brands can help create buzz for your product and encourage people to explore what you have to offer. It's essential to guide them to the product that caught their attention and turns their interest into action.
Unconventional Approach and Taglines
"If You Hate Barbie This Movie Is For You, If You Love Barbie This Movie Is For You"
"She's everything. He's just Ken."
Warner Bros. strategically utilized the iconic Barbie Pink color to highlight the movie's girl-power theme and create a cultural phenomenon. Provocative teasers, such as a trailer with a nod to "2001: A Space Odyssey," challenged preconceptions and sparked discussions. 
Movie marketing hasn't traditionally allowed for much creativity. Teasers, trailers, posters, PR, and interviews are all you have to convince the audience to go to theaters.
The taglines acknowledged the diverse perceptions of Barbie, appealing to a broad audience.
The immersive "World of Barbie" experience touring North America and the Barbie Selfie Generator engaged the public and built anticipation for the movie. The extensive use of pink in marketing enhanced brand memorability.
the "Barbie" movie successfully captured the attention of the audience and generated immense curiosity using these unconventional tactics leading to its box office success.
Barbie's Recognizable IP
Warner Bros and Mattel strategically used their recognizable IP to create a cultural phenomenon and attract audiences worldwide.
The film's marketing budget, estimated at $125 million to $150 million, was invested in an aggressive campaign that included over 100 international brand partnerships and the creation of branded merchandise.
the release of "Barbie" alongside another film, "Oppenheimer," led to a phenomenon known as Barbenheimer, where audiences purchased same-day tickets to watch both movies. This dual event created a sense of excitement among the audience.
The movie's marketing team went a step ahead organizing unique events like boat cruises, pop-ups, and themed Airbnb experiences, creating an immersive and engaging experience for audiences. 
Social Media Buzz
They adopted a breadcrumb strategy, releasing teasers and trailers that piqued interest and encouraged organic conversations among fans.
The marketing team's efforts on TikTok further amplified the movie's impact. They leveraged the platform for organic engagement, capitalizing on trends and user-generated content related to Barbie, which contributed to the movie's widespread buzz and popularity.
The movie's marketing strategy extended to real-life experiences. People dressed in pink costumes for the movie, create a collective experience and demonstrate their connection to the brand and character.
The marketing team flooded social media platforms with Barbie-inspired looks and glam, captivating audiences worldwide. Numerous brands joined the frenzy, introducing Barbie-themed products and experiences.
We cannot ignore the fact that Barbie had a huge budget of $150 million, but as marketers, we can learn from these tactics and explore how to create effective campaigns for our clients without requiring $150 million!
Wrap Up
If you have a product and wish to reach customers without investing tons of money, Ecommerce Revolt is what you deserve. Request a marketing review for your existing e-commerce business or book a call right now to start from scratch today!